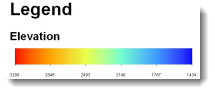 If a vertical legend is not the proper fit for your layout, perhaps you should try a horizontal legend.
Inserting a Legend
1. Make sure you are in the Layout View.
2. In the Insert Menu, click Legend.
3. Follow the Legend Wizard to choose the map layers, map title, legend frame, symbol patch, and spacing. You can choose all defaults setting if you want. When you are done, a vertical legend will appear.
Read full article here.